Hello everyone. On behalf of Fuzhou Lakeside International School, I would like to welcome you to the 2020-2021 Opening School Ceremony. Although we cannot be face-to-face and in person for this presentation, we are all very thankful that our students, families and staff are healthy and able to continue to come to school to meet for classes starting on August 31st. It is my pleasure and honor to introduce the FLIS academic program overview to you today, reflecting on the Secondary, Primary and ECE schools. *
大家好!我谨代表福州西湖国际学校(FLIS),欢迎大家参加2020-2021学年开学典礼云直播。虽然今天我们未能面对面举行线下典礼,但我们都十分庆幸,FLIS的学生、家庭和教职员工自8月31日起都能健康返校授课、学习。在此,我很高兴也很荣幸向大家介绍FLIS中学、小学及幼儿园课程的概况。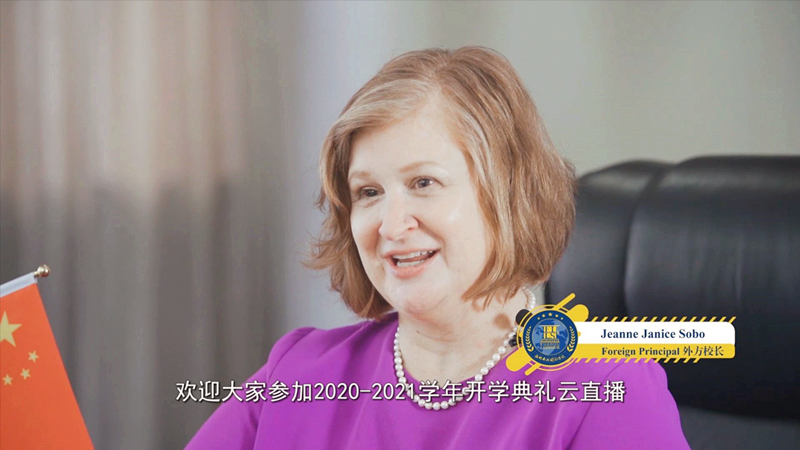 First, focusing on our secondary school and the GAC-ACT High School Program aimed at 11th and 12th graders. The GAC or Global Assessment Certificate Program is a university preparation program that provides students with the academic knowledge, independent learning skills, English language skills and confidence to enter and successfully complete a bachelor's degree at university. *
首先,让我们聚焦FLIS中学部,面向十一至十二年级的GAC-ACT高中课程。GAC(全球评估证书)项目是一个大学预备课程,学生在这个课程里学习学术知识、独立学习技能、英语语言技能及自信,为将来升读大学并顺利获得本科学位做好充分准备。
For students who wish to study overseas, successful completion of the GAC gives entry into one of many GAC Pathway Universities in Australia, Canada, Indonesia, Malaysia, Mexico, Singapore, Thailand, the UK, the USA and Vietnam. *
对有意出国留学的学生而言,成功完成GAC项目之后可以进入澳大利亚、加拿大、印度尼西亚、马来西亚、墨西哥、新加坡、泰国、英国、美国和越南的众多GAC联盟院校之一继续深造。
In addition to the GAC, all students have the opportunity to prepare for and take the American College Test or ACT. The ACT is a multiple-choice college entry test that covers English, Mathematics, Reading, Writing and Science which is recognized by all universities in the USA and many universities around the world. *
除GAC外,所有学生都有机会准备并参加ACT(美国大学考试)考试。 ACT是一个多选题的大学入学考试,内容涵盖英语、数学、阅读、写作与科学。该考试得到了美国所有大学及世界上许多大学所认可。
The GAC is the only international university preparation program that includes the ACT. This means that when students apply to university, in addition to their FLIS high school diploma, they will have a GAC Grade Point Average (GPA), an ACT score, and depending on where students transfer, they may be eligible to receive up to 45 college credits toward an associate or bachelor's degree. *
GAC是唯一一个包含ACT考试的国际大学预备课程。这意味着,当学生申请大学时,除了FLIS高中毕业证书外,他们还将拥有GAC绩点(GPA)以及ACT成绩,根据学生转学的情况,他们可能有资格获得最多45个大学学分(副学士或学士学位)。
Next, we have the IB MYP or Middle Years Program through the International Baccalaureate for grades 6 through 10. The IB aims to develop inquiring, knowledgeable and caring young people who help to create a better and more peaceful world through intercultural understanding and respect. *
接下来我们要介绍的是为六至十年级开设的IB(国际文凭组织)MYP项目。 IB课程旨在培养求知欲强、知识渊博、富有爱心的年轻人,通过跨文化理解及尊重,协助创造一个更美好、更和平的世界。
The IB works with schools, governments and international organizations to develop challenging programs of international education and rigorous assessment. These programs encourage students across the world to become active, compassionate, internationally minded and lifelong learners. *
IB与学校、政府和国际组织合作,开发具有挑战性的国际教育课程和严格的评估考试。这些项目鼓励世界各地的学生成为积极、富有同情心、具有国际意识,活到老学到老的人。
The IB Diploma Program was established in 1968 to provide an international education that would enable young people to better understand and manage the complexities of our world, and to provide them with the skills and attitudes to take action to improve it. *
IB的DP项目设立于1968年,目的在于提供一种国际教育,从而令年轻人能够更好地理解和处理世上复杂的事物,并使他们具备采取行动改善世界的技能与态度。
Such an education was grounded in the belief that the world could be made better through an education that focused on concepts, ideas and issues that crossed disciplinary, cultural, national and geographical boundaries. *
这种教育根植于一种信念之上:它相信通过注重跨学科、文化、国家和地理界限的概念、观点和议题的教育,可以使世界变得更加美好。
With the introduction of the Middle Years Program in 1994, the MYP has been designed as a coherent and comprehensive curriculum framework that provides academic challenge and develops the life skills of students from the ages of 11 to 16. *
1994年推出的MYP项目是一个连贯而全面的课程框架,为11至16岁的学生提供学术挑战,并培养他们的生活技能。
These years are a critical period in the development of young people. Success in school is closely related to personal, social and emotional well-being. At a time when students are establishing their identity and building their self-esteem, the MYP can motivate students and help them to achieve success in school and in life beyond the classroom. *
11至16岁是青少年发展的关键时期。学生在学校的成功与个人、社交及情绪健康息息相关。在这一阶段,学生确立身份认同、逐渐建立自尊感之际,MYP项目可以激励学生,帮助他们在学校和课堂之外的生活中取得成功。
The MYP offers students opportunities to develop their potential, to explore their own learning preferences, to take appropriate risks, and to reflect on, and develop, a strong sense of personal identity. *
MYP项目为学生提供机会,让他们发展自己的潜能,探索自己的学习偏好,承担适当的风险,并反思、发展强烈的个人身份认同。
At FLIS, our primary school program for grades 1 through 5 covers a comprehensive curriculum while following international primary standards and the American Common Core State Standards of education. *
在FLIS,我们的小学课程包括一至五年级的综合课程,遵循国际小学标准及美国共同核心州立教育标准。
FLIS students are engaged in a holistic, values-based education with core subjects of English Language Arts and Mathematics, integrated Social Studies, Science and Computing, as well as specialist subjects of Physical Education, the Arts, and Music instructed in the English language. *
FLIS的学生接受全面的、以价值观为基础的教育,核心科目有英语语言艺术和数学,综合的社会研究、科学和计算机,以及以英语授课的体育、艺术和音乐等专业科目。
FLIS offers the International Primary Curriculum or IPC which is made up of many exciting, engaging and globally relevant thematic Units of Work designed around a clear process of learning. *
FLIS使用的IPC课程(国际小学课程)围绕着一个清晰的学习过程而设计,由许多激动人心、引人入胜、与世界相关的主题单元所组成。
Each unit has embedded within it, across the different subjects, learning-focused activities that help children start developing a global awareness and gain an increasing sense of themselves, their community and the world around them, as well as inspiring international mindedness through positive action and engagement with global issues. *
每个单元都在不同科目中嵌入了以学习为重点的活动,帮助孩子们开始培养全球意识,增强对自己、社区和周围世界的认识,并通过积极的行动与对全球问题的参与,激发他们的国际意识。
F

or our 3 to 6 year olds in the FLIS Early Childhood Education (ECE) School, the IEYC, or International Early Years Curriculum is our focus for thematic learning. Developed to complement the IPC, the IEYC was designed to incorporate a self-sustained international curriculum and is used in more than 300 schools in over 60 countries worldwide. *
对FLIS幼儿园三至六岁儿童而言, IEYC课程(国际幼儿课程)是主题式学习的重点。该课程为完善IPC课程而开发,被设计为一个独立自洽的国际课程的一部分。全球超过六十个国家的三百多所院校均使用IPC课程。
The philosophy of the IEYC is designed around four essential constructs:
IEYC课程的教育哲学围绕四个基础概念而设计:
• First, it is Child-centered. The child-centered approach is an application within the field of child development that allows the child to have their own ideas. The interests of the child are then fed into planning. *
首先,该课程以儿童为中心。这种以儿童为中心的教学法应用于儿童发展领域,允许儿童有自己的想法,之后再融入了儿童的兴趣。
• Next are the Learning Strands. Each activity suggested in the IEYC covers a wide range of Learning Strands which may fall into cognitive, linguistic, artistic, physical or social-emotional learning areas, therefore providing a holistic approach to learning and development. *
第二个基础概念与学习链有关。IEYC建议的每项活动都涵盖了广泛的学习链,比如认知、语言、艺术、身体或社会情感学习领域,由此,IEYC提供了一个全面的学习和发展方法。
• The IEYC is made up of a diverse range of exciting and engaging units of learning similar to the IPC, which are designed around a Learning Process. This process outlines the route to be taken through a unit. The stages are defined as the 'Entry Point'; 'Capturing Curiosity'; 'Enable the Environment'; 'The Big Picture'; 'Explore and Express'; and 'Exit Point'. *
IEYC课程由一系列激动人心、引人入胜的学习单元组成,类似于IPC课程,这些单元围绕着一个完整的学习过程而设计。这一过程勾勒出了学生学习一单元所行经的路线。该路线分为几个阶段: "单元切入点";"捕捉好奇心";"创设学习环境";"宏观课程总概括";"探索与表达";以及"单元结课点"。
• The fourth area deals with the purpose of the IEYC which is to help children develop their knowledge, skills, and increasing understanding to support their development in early years. ECE teachers integrate knowledge and skills while also embracing the children's own ideas and understanding. This prepares them for deeper learning experiences. *
第四个基础概念与IEYC的目的相关,即帮助儿童发展他们的知识、技能,增加理解力,以促进幼儿早期发育。幼儿园教师在整合知识和技能的同时,也愿意采纳儿童自己的想法和理解。这为孩童获得更深层次的学习体验做好了准备。
At FLIS, we have enhanced the IEYC with additional English language and Mathematics learning to support even further preparation of students for primary school. *
在福州西湖国际学校,我们在IEYC课程中加入额外的英语、数学学习,帮助学生在未来的小学学习中做好长远准备。
I encourage all of you, parents and families; to learn more about your child's program and how you can support learning at home by attending FLIS Open House and speaking to your child's teachers and school leaders who can help direct you throughout the school year. *
我鼓励所有家长和家庭,通过参加FLIS开放日,与孩子的老师、学校领导交流(这一学年里他们可以为你提供帮助与指导),了解更多关于孩子学术项目的信息,以及如何在家里协助孩子学习。
There is a famous saying, "United we stand; divided, we fall." So remember, together, we will stand and prevail. Working together within our school community, we will help FLIS students to accomplish their dreams and their goals in life! The future is very bright so let's keep looking ahead! Jia you, everybody! 加油, 大家!
正所谓,"团结则存,分裂则亡"。 所以,请记住,只要团结一心,我们就可以坚持到底并获得胜利! 在学校这个大家庭中,我们一起努力,帮助FLIS的学生完成他们的梦想和人生目标! 未来是光明的,让我们继续向前看!加油,大家!